Read: 2 Chronicles 29:1-30
Now it is in my heart to make a covenant with the Lord, the God of Israel, in order that his fierce anger may turn away from us. (v. 10)
What an immediate, dramatic change took place in the spiritual and public life of Judah when Hezekiah became king at age twenty-five! Hezekiah had a remarkably clear understanding of the root cause of the tragedy the nation was experiencing—the king and the people had turned their backs on God. To rectify the situation, he took the key initial step himself. He made a covenant with God (v. 10). With his relationship to the Lord in place and in his role as king he directed the priests and Levites to reestablish the worship of God in the temple. When the temple was purified and order reestablished, the king and city officials went to the temple to worship. All this took place in the first month of his rule!
How could such a dramatic change from Ahaz to Hezekiah happen? It is quite likely that God used Isaiah to play a key role. Isaiah had ready access to the palace with ample opportunity to influence the teaching and training which Hezekiah received as a youth.
We aren't all as gifted as Isaiah, but all believers have a role to play in teaching and guiding children and young people in biblical truths and Christian living. Consider how God is leading you to encourage and pray for the young people in your family, church, or community. Only God knows the tremendous good that can come from it. —Gordon Van Wylen
As you pray, commit the lives of the youth in your life to God.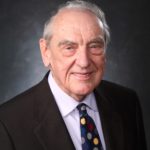 Gordon Van Wylen served as the Dean of the Engineering School at the University of Michigan, and was the President Emeritus of Hope College. Dr. Van Wylen died in 2020.