Read: Philippians 3:12-16
I press on toward the goal for the prize of the upward call of God in Christ Jesus. (v. 14)
My lungs burned. My temples were pounding. My muscles ached. Everything within me wanted to quit. I had only two miles to go before I would finish my first 25K race. This was the moment when my resilience would be tested. When I would see if all that training paid off.
Forgetting what was behind me, I strained forward— stretching, pushing, pressing on with everything I had. I could hear the faint cheers of the crowd around the bend. A surge came over me, my resolve strengthened. I would finish the race.
A resilient faith forgets what lies behind and presses on toward "the goal for the prize of the upward call of God in Christ Jesus." Forgetting what lies behind doesn't mean we dismiss the past or disregard memory. It means we refuse to stay stuck in the past or be bound by it. Instead, we find the resilience to keep going even when its hard and to grow stronger through adversity. Ultimately, we are able to cross the finish line and grasp the prize because we have been grasped by the one who has made us his prize. We press on to make it our own because Jesus has made us his own. You are Christ's own. He holds you even now. So keep running. Don't quit. Run with everything you've got, and finish the race. —Brian Keepers
As you pray, as God for his strength to press on, forgetting what lies behind, and finish the race set before you.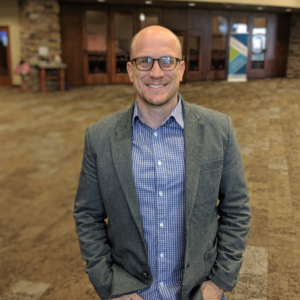 The Rev. Dr. Brian Keepers is the lead pastor of Trinity Reformed Church in Orange City, IA. He has served as an ordained pastor in the Reformed Church in America for twenty years, and received his D.Min from Western Theological Seminary (Holland, MI). Brian is married and has two daughters and one granddaughter.