Read: Ephesians 4:17-32
You . . . were taught . . . to put off your old self, which belongs to your former manner of life . . . and to put on the new self. (vv. 22-24)
For my birthday my wife bought me several new athletic shirts. But much to her chagrin, I kept wearing the smelly old ones. They were so comfortable and familiar it was hard to throw them away.
Our lives were once in bondage to sin, and we lived according to the ways of the world. But God has set us free from sin and the "old self" has been buried with Christ in baptism. Now we've been raised with Christ, given a new identity as his beloved. With this new identity, we get a new wardrobe. The temptation, however, is to keep wearing the old clothes.
What kinds of clothes (or behaviors) does Paul call us to put off? Things like falsehood, sinful anger, stealing, unwholesome talk, bitterness, wrath, clamor, slander, and malice. Do not grieve the Holy Spirit, Paul said. That's not how we learned Christ! Instead, put on these Christlike virtues: truthfulness, honest labor, gracious words, kindness, tenderheartedness, and forgiveness. In summary, Paul instructs us to "be imitators of God" (Eph. 5:1).
What old sinful behaviors do you need to put off? And what's a Christlike virtue you will put on today? When we put on these Christlike clothes, they may feel uncomfortable and a little big at first. But keep wearing them. God promises that, by his grace, you'll grow into them! —Brian Keepers
As you pray, ask God to help you put off the old self and put on the new.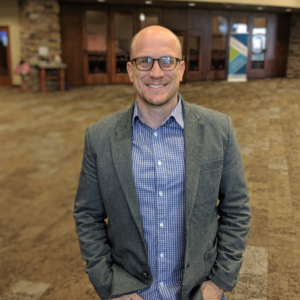 The Rev. Dr. Brian Keepers is the lead pastor of Trinity Reformed Church in Orange City, IA. He has served as an ordained pastor in the Reformed Church in America for twenty years, and received his D.Min from Western Theological Seminary (Holland, MI). Brian is married and has two daughters and one granddaughter.