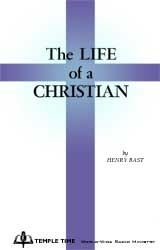 Imagine writing a letter to a loved one that would most likely be the last words they would ever receive from you. What would you say? Dr. Henry Bast explores these final words of Peter in The Life of a Christian.
"In this letter Peter looks not only at the circumstances, problems, difficulties and temptations the Christians faced in the first century; he looks beyond these to the second coming of Jesus Christ and the end time." While reading this book you may find that Peter's message rings strangely true even today.
Dr. William C. Brownson is the President Emeritus of Words of Hope. Dr. Brownson has served Reformed churches in Lodi, New Jersey, and Chicago, Illinois. In 1964 he was appointed Professor of Preaching at Western Theological Seminary, a position he occupied for ten years before serving at Words of Hope. In addition to a widespread speaking ministry in churches, on university campuses and at conferences, Dr. Brownson has written extensively for the Church Herald, other Christian periodicals, and he has authored many books.